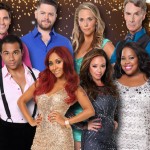 Unfortunately for ABC, DWTS is turning into Make-a-Wish for Seniors.
For weeks, the network's been touting all these new changes to the show that were revealed on Monday night, so I hope you all were ready for them!  Here they are, in no particular order:
You get 12 votes per phone line, per e-mail address, and Facebook account. That's 36 votes, y'all.  Oooooh.
The show will only air one night a week.  Ahhhh.
Couples keep their numbers the whole season.  Say it with me now.  Ohhhhhh.