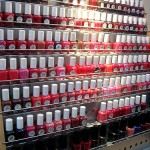 We're into Week 3 of Government Shutdown 2013, and things are getting rough, y'all.  Like, so rough, I'm submitting a list of potential OPI nail colors should this thing continue.
Here they are, in no particular order:
All Dressed Up and No Place to Furlough
This is Red-iculous!
Fiscal Cliff Fuchsia
My PAC or Yours?
One Fish, Two Fish, Red Fish, Blue State
Blame Game Blues
Tea Party Teal
Green Eggs and Farm Subsidies
Blink First Blanca