Apparently you can't miss one episode without someone getting a concussion or breaking a foot.  And I thought there wasn't enough material to sustain a season of snark – ha! Forgive me, dear readers.  I'm back.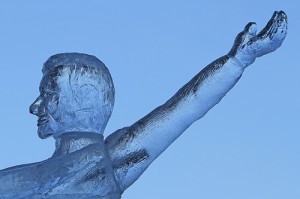 Week 4 was Rock Week, brought to you by KISS  - because nothing says "ballroom is sexy" like five sexagenarians in face paint.  Nice going, ABC.  I'm pretty sure you've alienated your core demographic with that one.
Gene Simmons opened the evening's festivities with the statement, "We're going to kiss somebody goodbye" before inviting viewers to "Lick it Up."  Get it?  Kiss?  Cuz they're KISS?  Oh, nevermind.  Way to set the tone, Gene.
Number of times Gene Simmons stuck his freakishly long tongue out: 3  (Only three? That seems awfully low.  But, yes, I only counted three.)
Another observation:  I like Paul Stanley better when he's painting, not mugging for the camera.
The ABC Pimp Machine was in full effect on tonight's results show, what with Tom Bergeron promoting KISS' upcoming summer tour, the new "Dancing With the Stars" Las Vegas show at the Tropicana featuring a slew of former Disney Kids, and James Van Der Beek waving to the camera in hopes of snagging a few viewers for his new show premiering this week, "Don't Trust the B—- in Apartment 23."   And, of course, Twitter Nation had to weigh in.   LittleGirl89 tweeted, "OMG!!! This elimination is crazy!!! Its [sic] not normal to feel this nervous".   You're right, LittleGirl89 – it's NOT normal to feel this nervous.  Because it's a television show, not an execution.  Move on.
On to Half Pint's concussion, which is what I know you all came here for.  I could've sworn her bun cushioned her fall last night, but evidently that wasn't the case.  Gavin DeGraw nobly carried her down the stairs to waiting medics below. *swoon*  The behind-the-scenes footage where Little House was given oxygen while Gene Simmons looked on in full KISS regalia, offering no assistance whatsoever, was priceless.
One question –  where was Half Pint's sister, Roseanne's Sara Gilbert, in all of this?  Probably relegated to the parking lot, along with the other non-ABC television personalities.  Who was in the audience, you ask?  Well, for one, John Stamos, Nia Vardalos and Rita Wilson were in Maria Menounos' cheering section.  (Uncle Jesse? Is that you?)  Jennifer Love Hewitt was cheering the dancers on, too.  Little Richard was spotted after Gladys Knight's dance, which led me to ask, "Little Richard's still alive?"
Watching Football Player Donald and his partner Peta do the encore dance made me wish, just for a second, that I was on the show.  Oh, who am I kidding.  I just want the twirly dress and hair extensions.
Next up – Latin week!  Can't wait to see what bedazzled, rhinestone-y Karate Kid headband William will be rocking for that one.
 Ice sculpture photo courtesy of Flickr user Leo Reynolds through this Creative Commons license.