The show began as these reunion shows always do – with host Chris Harrison breathlessly proclaiming it to be the most memorable/controversial/dramatic reunion show EVER.  The show was sponsored by the color Purple.  Not the book, mind you.  The look!  Most everyone (even Courtney!) got the memo that purple and lilac hues were the color of the hour (or two).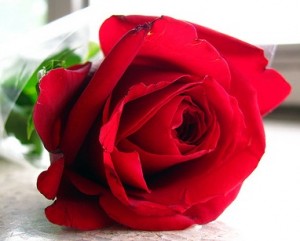 First off, I don't know why they brought one of the final ladies back while the show is still airing.  My guess is that the outcome is already out there, and the showrunners decided to try and get ratings wherever and however they can.  And a tearful, apologetic Courtney apparently does that.  It's not clear whether she's apologizing to the ladies she insulted because she's sorry, or she's upset that it's adversely affected her relationship with he of=the-wonky-hair.  (And the hair was no better tonight than it was any other night – clearly the show's hair people have given up).
And another thing – why was it that when Chris Harrison announced that Courtney was at the taping (a Bachelor FIRST, I might add!), the audience members reacted like they were on "Oprah's Favorite Things"?  Seriously, the reaction of cheering, fist pumping and dancing was bizarre.  I doubt these ladies got a pack of peanuts, much less a blender or iPad.  Odd.
There weren't as many numbers as in weeks past, but I managed to scrounge up a few:
17 – number of women from Ben's season (out of 25) that showed up for the "Women Tell All" episode (not counting Shawntel, the funeral director/embalmer from Brad's season who crashed a rose ceremony and was brought back inexplicably again) – wth, I thought they were all contractually obligated to be there?!?
1 – number of shameless promotions for the upcoming season of "Bachelor Pad 3" which contains many contestants I don't recognize
3 – number of guys in the audience who wished they were anywhere else
1 – number of times Brittney called Samantha the "house Chihuahua" because she never shuts up.  Ever.
2 – number of women who cried
1 – number of tampons Monica offered to Jenna after the taping (it's a long story, but basically Jenna said something at one of the cocktail parties to Monica where she offered to share a tampon with her.  It was weird.)
Tune in next week for the most controversial/dramatic/obvious Bachelor finale EVER.  The teaser suggests that there will be a helicopter ride, sledding, and (of course) a picnic!
Photo courtesy of Flickr user Blair_25 under this Creative Commons license.