For the second year in a row, I attended the Best Picture Marathon that's held the day before the Oscars, where you watch all the Best Picture nominees in a movie theater with other "movie lovers."  (Or misfit toys, your pick).   Last year it was ten movies, this year it was nine.  Here's my experience: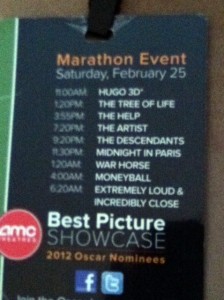 Attending the AMC Oscar Best Picture Marathon is a lot like what I think childbirth would be like, minus the tearing.  At times unpleasant – you feel nauseated, your bottom half goes numb, and if you've done it before, chances are you forget how painful and draining it is.  But by the end, you feel a sense of accomplishment.  (In the interest of full disclosure, I went home and took a nap during "The Help" and the dinner break because I had already seen that movie last summer and didn't want to get a headache from crying at film #3.  But it was still a long 20 hours.)
Here are a few of my observations:
The dog in "The Artist" was WAY better than the dog in "Hugo."  Just sayin.'
I went into "Tree of Life" with an open mind, but it pretty much lost me at the dinosaurs.  I couldn't help but feel like I was watching a 2.5 hour Kate Moss "Obsession by Calvin Klein" perfume ad.  I also thought it was over five times before it actually was.  I kept saying, "Is it over?"  I don't usually talk during movies, but I was frustrated and confused.  The lady next to me felt the same way.
The scheduling was a little off (again).  For the second year in a row, the marathon kicked off with a kids movie (This year: "Hugo."  Last year: "Toy Story 3.") Why not have the loud/confusing/emotionally upsetting movies closer to the start and the lighter movies at the end when everyone is delirious? (Last year: "Inception" at 2 a.m. This year: "War Horse" at 1:20 a.m. and the 9/11 movie last.)
And while we're on the subject of "War Horse":  A curmudgeon at the marathon announced loudly, "War Horse – more like Snore Horse!" and was very pleased with himself.  Yes, the movie was cheesy and totally predictable, but c'mon, it's about a boy and his horse.  Damn you, "War Horse."  The last time I cried at 3 a.m. on a Saturday night I was in college.  I thought those days were behind me.
"Moneyball" at 4 a.m. went much better than I expected.   A baseball movie with math in it that I actually enjoyed – shocking!
Trivia facts that I learned during the breaks, where people with even less of a life than me earned prizes ranging from a "Joyful Noise" cd to a "Moneyball" t-shirt, or an "In the Land of Blood and Honey" movie poster to an "Arthur Christmas" holiday scarf:
"Uggy" (the dog from "The Artist" is making his final appearance at the Oscars and will be retiring due to a "shaking syndrome."  That fact makes me sad.
At least four actors appeared in two of the best picture nominees each this year: Brad Pitt, Jessica Chastain, Viola Davis and John Goodman.
All but one of the films are set at a different time period than present day ("The Descendants").
It was a freakin' sauna in the theater, almost from the get-go.  Imagine sitting in an auditorium theater for 22 hours with the same people eating hot dogs with relish and nachos with peppers.  A total "Stand by Me" moment waiting to happen.  Ugh.  The ventilation system sucked, hence the wonderful cold I now have to go along with my commemorative poster and lanyard.  And don't get me started on the bathrooms.  Imagine the gastrointestinal distress wreaked by a diet of said hot dogs and nachos.  The women's room was reminiscent of the water scene in the "The Hours" or the husband/wife in their bed on "Titanic" (both Oscar-nominated films, by the way.)
I left the theater, emerging into the sunlight this morning feeling as though I'd been in a hole for 24 hours (which, I pretty much had been).  I went home and took a shower and a LONG nap.  I think it's safe to say that it'll be awhile before I go to another movie in the theater or stage a marathon viewing of anything.  Until next year, when my memories of the event are clouded by my love of movies and I purchase another ticket.