I have a confession to make. I crashed a cookie party.   It happened a few weeks ago.  My friend S invited me so it wasn't technically crashing, but I didn't know anyone there and therefore, I felt like a party crasher.  I'd never crashed a party before, so I wanted to make sure I was prepared.  I baked cookies because I didn't want to crash empty-handed (I wasn't raised in a barn, after all).  I felt like a fraud walking into the apartment with my three dozen cookies and an empty container to bring home my haul.  Those who know me know that I don't cook, and baking can be fun, as long as it doesn't take too long/isn't too hard.
For those of you who want the recipe, I've included all ingredients below.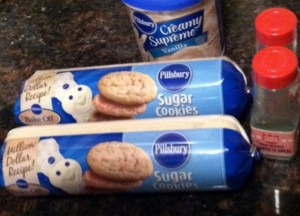 Got that?  Good.
The hostess (I can't remember her name) was very sweet and gracious – she was pleased to see that I had brought cookies.
Having never been to a cookie party, crashed or otherwise, I wasn't sure how things were gonna go down.  She had us display our cookies around the kitchen, form a line, and take 3 of each from every cookie station.  Then we'd gather in the living room, form a circle, and share the "story" behind the cookies we brought.  Shit, shit, shit! I thought to myself. I needed to come up with a good story, and fast!
There was Jo, who told us how she always made Italian wedding cookies with her grandmother and spelled her name in each cookie.  There were family recipes from long-deceased relatives, stories about how cookie-making reminded the maker of their childhood or their love of kittens, heartwarming stories of family coming together around the table.  I can't really tell you more because I wasn't really listening. I was trying to come up with a story to cover for the fact that I suck at/have no patience for cooking.
When it was my turn, I blurted something to the effect of "My cookie doesn't have a story. It was baked with love."  Cue the awkward silence.  Thankfully, the next person went and all was forgotten.
The cookie party was such a hit, next year everyone is supposed to bring their recipes.  The jig will be up then.