I'm in a barber's chair getting my eyebrows threaded in the middle of a mall in Northern Ohio. What could possibly go wrong?
I've never had my eyebrows threaded, but I'd heard about it, and wondered if what they said was true – that it is less painful and lasts longer than waxing. I was visiting my family's cottage on Lake Erie and it was a rainy day, so we headed to the mall. And that's where the adventure began.
In retrospect, I should have started running when I saw this postcard advertising their services.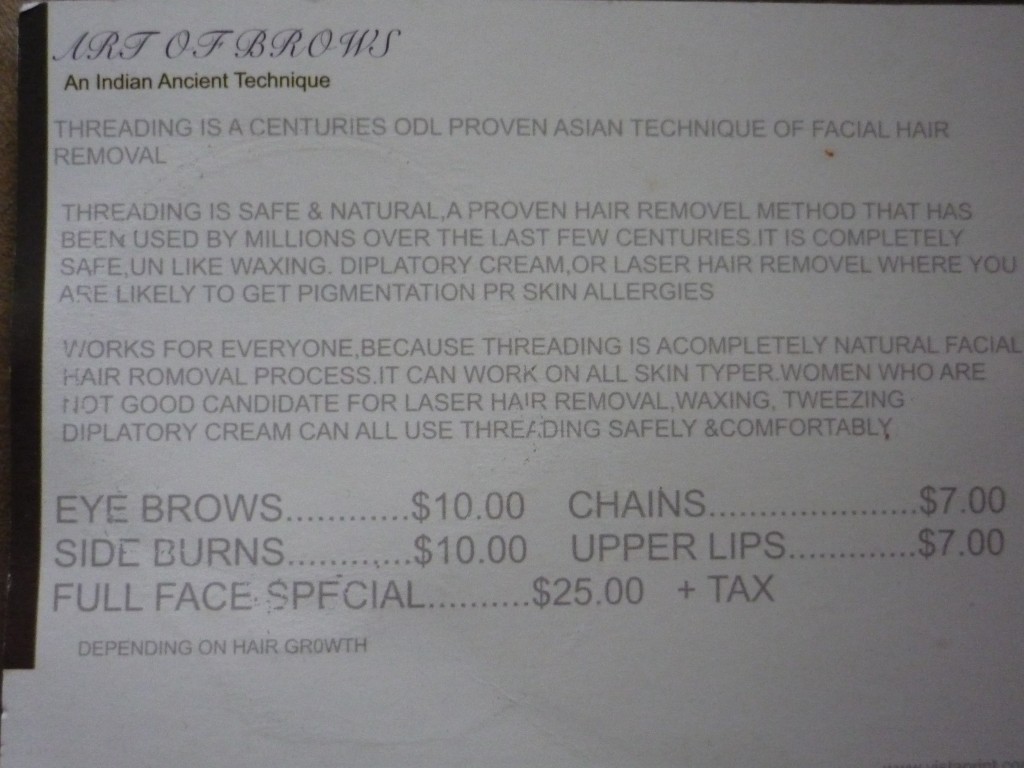 Yes, there were no fewer than 25 spelling/grammatical errors, but I had plenty of rationalizations available.  "It's a centuries-old technique, maybe they spent their time learning the secrets of painless eyebrow-hair removal as opposed to English." "Would you rather have someone who's a champion speller or who can pluck those pesky caterpillars with the least amount of pain?" I had 45 minutes before the caravan was pulling out, and I'd already hit the rest of the mall, so this seemed like a good idea.
As soon as I sat down, I knew I'd made a mistake. For starters, the entire operation was on wheels and could be moved in minutes. Nobody would know that this place existed and I could be eyebrow-less if this goes badly. Funny, she didn't ask me which brow shape I wanted of the 47 displayed on the poster. I didn't recall seeing a license. And did I mention there were 25 typos in the ad?
Well, I can tell you this – eyebrow threading is NOT painless. The woman took a spool of thread, unwound it, and cut it WITH HER TEETH. I realized this when she had already done one eyebrow (and had created an "arch" that made me look like the dramatic chipmunk on YouTube). Then she proceeded to pluck out each eyebrow hair, one by one. It was torture. I just dug my fingers into the armrest and prayed that I'd have two brows when this was over. "How long does it take to grow back an eyebrow?" I asked myself. If push came to shove, I could always get stencils. Dating is hard enough without having to deal with/explain a missing eyebrow. Ugh. This was a bad idea.
Well, I'm happy to report that I made it out with two eyebrows, though I definitely looked startled. When it was finally over, the lady gave me a frequent customer punch-card, which I will not be using. I'll stick to waxing, thanks. Though I'd be interested to see what "chain" threading looks like.